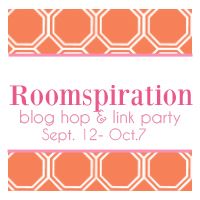 Since everyone has seen my living room(here and here and my Atlanta LR here) about a bajillion times and my new 'update' isn't complete yet, I asked Laura to share her pretty living room with you! Take it away sister.....
Hi Everyone! My name is Laura from Everyday Musings of Laura. I was so excited when Shelli asked me to share my living room with you all! Shelli has a beautiful home and exquisite taste, so it was quite an honor to hear she asked me to guest post here!
When my husband and I bought our first home over three years ago, we fell in love with the character of our home! One of the things that sold us on the home was the view of our pool through the French doors. Our style has evolved many times since we moved in, so the living room is truly a work in progress. All of this room has been decorated on a budget. Here it is in its current state.
The couch and ottoman were one of our first purchases as a married couple, over 4 years ago. While the couch has been serviceable, I actually have plans to replace the sofa with something more our style.
The French doors open to the patio and pool, where we spend much time during the hot Dallas summers! I love being able to look out and see the water. Since this is the only living area in the home, this room gets a lot of use. As you can see, one of our three dogs enjoys lounging in the living area too!
The rug is a faux sisal and is very soft underfoot. I chose it because of its practicality and also wanted a soft surface for when we have little ones. We love being able to prop our feet on the ottoman.
Another feature we love about our home is the fireplace. It is open on all sides, so our front door is actually behind the fireplace. With the couch facing the fireplace, the arrangement makes for quite a cozy place to snuggle up and watch a movie!
We house our media components on the lower shelves of this bookshelf.
A few details…
Thank you for reading about my living room! I hope you'll stop by my blog and see the changes I have planned for the space! Thank you, Shelli, for allowing me to share with your readers!
Sources:
Couch & ottoman : Rooms to Go
Bookshelf : West Elm
Lamps : HomeGoods
End tables : TJ Maxx
Accessories : Home Goods, Goodwill and various antique stores
Rug : Home Decorators
Curtains : JCPenney
Side chair : Marshalls
Duncan Phyfe antique chairs flanking bookcase : family hand-me-downs
-------------------------------------------
Now go link up your living rooms because I wanna go see them too!!!