So, back to the kitchen table. I know, I know, I'm sick of it now too (see here and here and you'll be sick of it too). But anyway, it ORIGINALLY looked like this on my home tour (which will be updated soon).
Pretty, right? well...
...we never sat there. It was crowded. I wanted to sit on the settee, but it was hard to get to it. So, once again, the real world 'this house has to be liveable' hit, and I changed it. Don't worry, if you know me at all, it will change again. It's my curse.
Is this better than the previous attempts?
Because my lazy self will not iron this runner until I decide if it is stayin.
Man, that thing needs to be ironed.
We really like the way we can see outside when we sit here as a family now for dinner. It lets the light in as well. We move K's highchair to the head of the table when we eat. She is the princess afterall
(don't I know it).
the rug isn't centered either
(oops more lazy)
it is a 5x8 and is the largest the space will allow
Let me know your thoughts.
-------------------------------------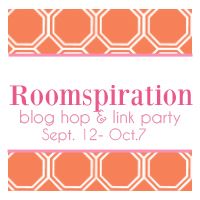 Do you have a craft room?
If so, go show it off here!
Are you getting your nursery posts ready to show off on my blog next week?
I'm going to be sharing some awesome nurseries that I have found too.
I'm so excited!!!