I love salvaged wood. I also love the 'look' of salvaged/reclaimed wood...even if it is salvaged from Tuesday Morning. ha. You can probably tell by my old farmhouse style dining table, that I really like this particular look. I am in love with the pieces from Restoration Hardware, but the prices are insane, especially from a 'big box' company that sells tons of the same stuff. Over and over. I don't mind it so much when I find pieces that are budget finds. They make me happy. I found this cute little side table from Tuesday Morning yesterday (sorry for the poor quality iphone pic). At $79.99, I thought it needed to go home with me....and over to my parent's new house. So....it did. I like the gray hue and the rustic rough look to the wood.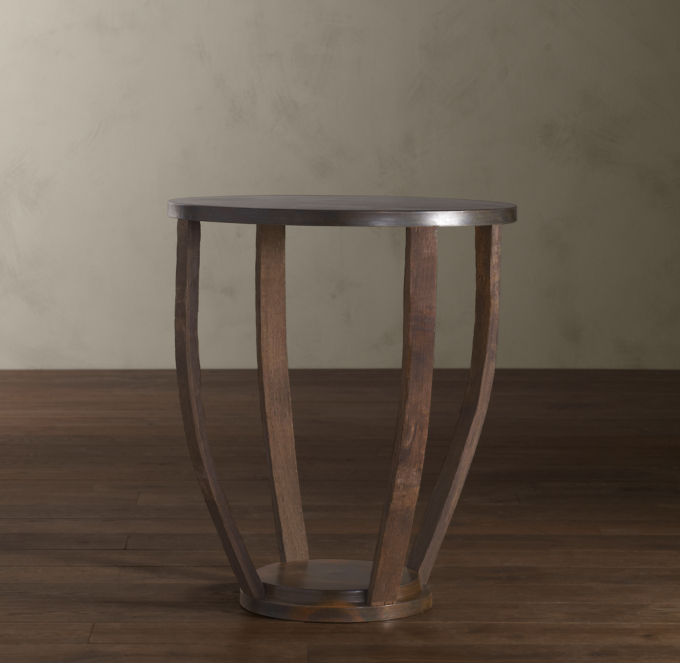 Or...if you want to pay $595, this reclaimed wine barrel side table from Restoration Hardware is cool too! =)
THE FYI:
-See if you have a Tuesday Morning nearby, they carry fun finds at a low price.
-Befriend the people who work there and ask them when their next shipment will be arriving. They truly do get new things all the time.
-Their return policy is good, so you can take it home, see if you like it, and if it doesn't work, bring it back with the receipt within the allotted time, and you will get a refund.